June in review for Education and Development
by courtney.akrigg@triathlon.org
on 05 Jul, 2022 08:25 •
Español
June has been filled with planning and preparation for a series of Education and Knowledge-sharing activities and events for the months ahead.
The team have developed race previews to assist coaches and athletes preparing for upcoming races. This edition was focused on the upcoming World Triathlon Cup in Pontevedra, taking place on the 24th July 2022. This race preview video provides an insight into the Pontevedra course and advice on the racing, training and preparation for athletes and coaches. We interviewed Carlos Prieto (ESP), an expert of the area. Carlos is the Technical Director and coach of the high-performance team and development team of Galicia Triathlon Federation and former coach of Javier Gomez Noya (2012-2021). The race preview video is available on the World Triathlon Education & Knowledge Hub.
With the goal set on the Paris 2024 Olympic Games, the World Triathlon's development partnership with high-performance sports equipment giant ASICS enters its 5th season and we are ready to welcome applications for the new members of the team. The next ASICS World Triathlon Team application deadline is 24th July 2022 for the 2022 World Triathlon Cup Valencia, Spain. For more information, visit the website.
World Triathlon Development will shortly contact National Federations that are on the World Triathlon Accredited Coach Education Programme for their accreditation revision and renewal, except for Canada and Portugal, whose accreditation is valid until 2024.
The World Triathlon Development and the Korean Triathlon Federation (KTF) are pleased to announce that we are now inviting applications for the fifth edition of the Korea Triathlon Federation - World Triathlon Coaching Education Programme to be delivered fully virtually from August to November 2022. The application is open for ODA Recipient Countries as it is defined by the United Nations (UN) and listed in the attached document. The programme has been supported and fully financed by the Ministry of Culture, Sports and Tourism (MCST) of Korea, the Korean Sport & Olympic Committee (KSOC), the Korea Sports Promotion Foundation (KSPF) and the Korea Triathlon Federation (KTF). The aim of the project is to provide opportunities for developing nations to access coaching education in triathlon and get qualified by World Triathlon as triathlon coaches at two levels: World Triathlon Level 1 Coach and World Triathlon Level 2 Coach. There are about a hundred National Federations across five continents eligible to benefit from the programme led by accredited World Triathlon Coach Facilitators.
Between 2017-2021 250 coaches from 64 National Federations from all five continents were awarded with World Triathlon Coach Certifications after their successful assessments.
2022 Korea Triathlon Federation - World Triathlon Coaches Level 1 E-Course
2022 Korea Triathlon Federation - World Triathlon Coaches Level 2 E-Course
(NEW) 2022 Korea Triathlon Federation - World Triathlon Coaches CPD E-Course
The application period is from 14th July 2022 - 4 August 2022, please refer closely to the deadlines for each course.
Americans Triathlon starts to implement Development Regional Cups as part of their development strategy in increasing the competitiveness of American young athletes (age between 16-23). This project goes beyond just an event, it aims to implement complex development initiatives, including education and training (4-5 days) for coach, athletes, technical officials, event organisers education and training. The first edition Development Regional Cup took place at Amatique Bay, Guatemala.

Within the same month, Americas Triathlon host the 2022 World Triathlon Development Regional Cup Panama City. For more information about Development Regional Cup, please check on World Triathlon Event Calendar.
2022 Rzeszow Team Europe
After their debut in Turkey in April, the Europe Team moved to Poland early June and six athletes from Turkey, Latvia and Slovenia attended the Sprint Triathlon European Cup in Rzeszow under the management of Ljudmila Medan (SRB) coach.
Selected athletes are:
Taha Eren Coşgun (TUR)
Artūrs Liepa (LAT)
Özlenen İpek Günad (TUR)
Selinay Tuğçe Kır (TUR)
Burak Çağdaş (TUR)
Jakob Medved (SLO)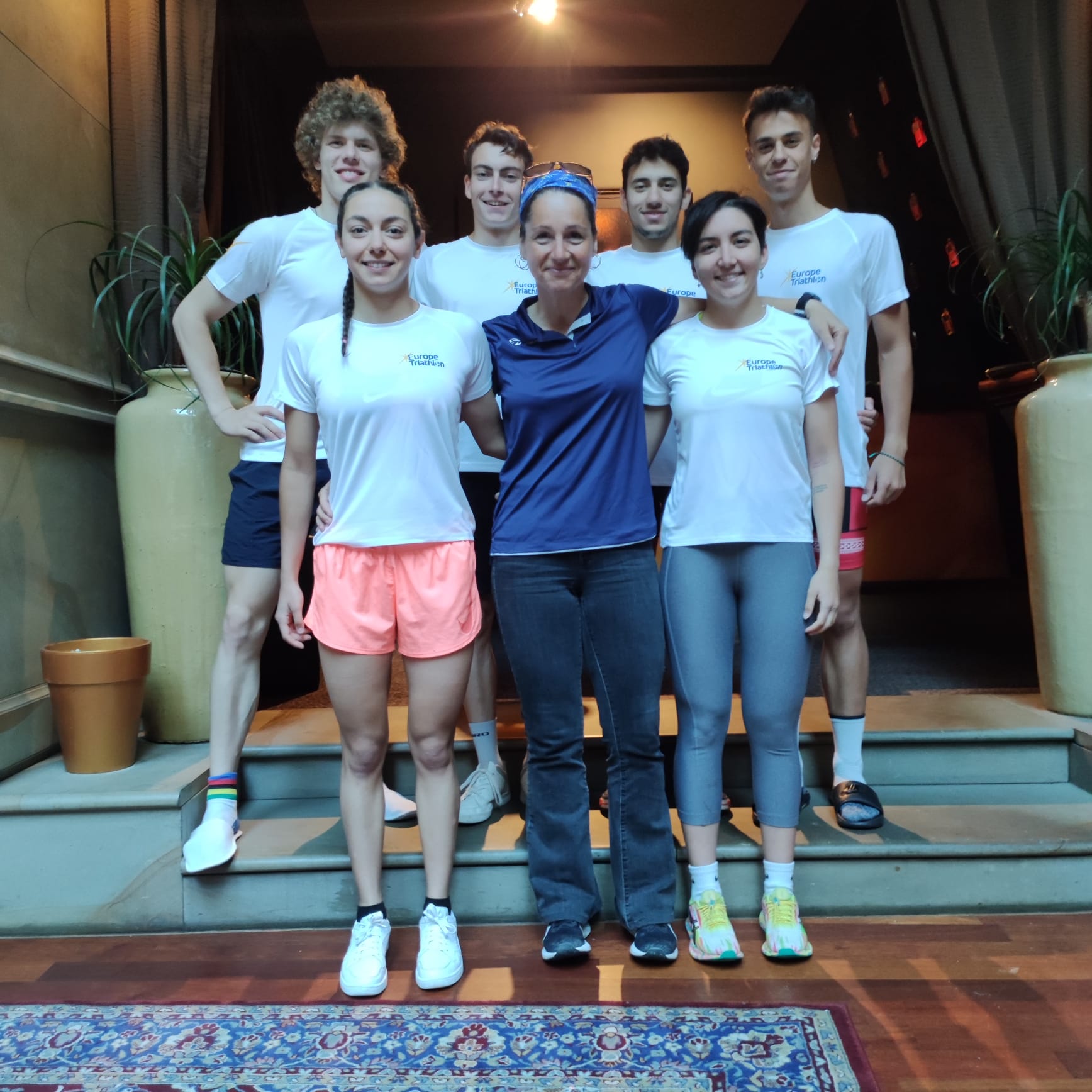 2022 Accra World Triathlon Technical Officials Level 1 Seminar
Africa Triathlon hosted a World Triathlon Technical Officials Level 1 Seminar in conjunction with the Continental Cup in Accra, Ghana. This educational event was part of the preparation for the African Games, that will be staged in the capital of Ghana in 2023. Rick Fulton from Zimbabwe delivered the course.
2022 Larache World Triathlon Technical Officials And Event Organisers Level 2 Seminar
Africa Continental Coordinator - Rick Fulton (ZIM)
"Good to see North African technical officials being given the opportunity to do these courses to further their officiating on the African continent and to reduce the amount of TDs having to travel from southern African NFs to carry these duties out."
Facilitator - Jorge García (ESP)
"It was a pleasure to be part of the next step of this group. I delivered the L1 in Larache in 2016, and now in 2022, part of that group made the next step to reach the L2. Also it was really interesting to work in a city with an existing event and make practical exercises over a real event!"
2022 Panama City World Triathlon Technical Officials Level 1 Seminar
Americas Continental Coordinator and Facilitator - FELIX MOLINA (MEX)
"Panama had been without a certification for a long time, it was very important for them to take this course to increase the level of their events."
"After 11 years of my last visit to Panama, for me the interest that the federation has in making the sport grow in its country was very gratifying."
Participant - Leticia Cisnes (PAN)
"For me it was very important to take this course to update myself with the competition regulations and to be able to perform better as a technical official in the events of my country."
National Federation Representative - Elsie Licona (PAN)
"For the federation, it is very important to keep our technical officials updated and I believe that this course will help us a lot to improve the organisation of events."
2022 Montreal World Triathlon Technical Officials And Event Organisers Level 2 Seminar
Participant - Althea Arsenault, New Brunswick (CAN)
"The material was presented in a clear and comprehensive approach working through each stage of a race. Even though the focus was on international level races, the information presented could be related and applied to lower-level races."
Participant - Melissa Merson (USA)
"The June 2022 Montreal CTO Course was interesting, fast-paced, and fun! That was due in large part to Beto and Yan, a great pair of facilitators who were well prepared and kept the jam-packed program on track. The group activities were terrific team-building exercises and switching them up enabled us to work with a variety of the class participants It would be great to tie future courses more directly to the associated triathlon events as a practicum building on the course instructions to continue the intentional mentoring through the entire week. Even after years in this sport, I learned a great deal and can't wait to put these lessons into practice. Thank you for the opportunity to grow and learn."
2022 Oslo World Triathlon Technical Officials Level 1 Seminar
This course is fully funded by the Norwegian Triathlon Federation and participants from other NF were welcomed. World Triathlon thanks the Norwegian Triathlon Federation for their initiatives and similar format of education initiatives from NFs are welcomed.
Facilitator - Dag Oliver (NOR)
"Sometimes one just gets to teach a dream team. It was a small group consisting of five Lithuanians and five Norwegians. But the quality, the engagement and not he least the results was stellar! Watch out world. It´s not just Those Norwegians coming to an event near you. It´s Those Lithuanians coming to save the day."
For more information on initiatives visit the World Triathlon Education and Knowledge Hub.
Related articles

Latest
Videos
---
Latest
Event Galleries