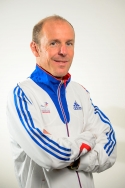 Representing: FRA
Gender: Male
Athlete Year of Birth: 1975
Athlete Place of Birth: France
Athlete Weight: 61kg
Athlete Height: 173cm
Athlete Lives: Aubiere France
Website: http://www.yannickbourseaux.com
WTS Ranking: No Ranking
ITU Points List:: No Ranking
Athlete Biography
He took up triathlon at age 14 in 1989. He was training for triathlon when he suffered an accident that left his right arm paralysed in 2006. He began competing in paratriathlon in 2006. He is the winner of 13 ITU World Paratriathlon events between 2005 and 2016, he is also a winter Paralympian, having participated at the Torino Winter Games.
Athlete Sponsors: Atos Origin, Eurospa
Athlete Language: French, English
Athlete Tri Entry Year: 1989
Athlete Other Sports: He was a member of the French national triathlon team before his accident. He competed in para-biathlon at the 2006 and 2010 Paralympic Winter Games.
Athlete Education: Sport training
Athlete Hobbies: Cross-country skiing and biathlon
Athlete Children: one child, Ines, with Fabienne
Athlete Proudest Moment: Being at Torino 2006 Paralympic Winter Games only 18th after my accident and disability.
Athlete Coach: Nicolas Becker