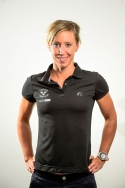 Representing: SWE
Gender: Female
Athlete Year of Birth: 1984
Athlete Place of Birth: Kristianstad
Athlete Weight: 60 kg
Athlete Height: 176 cm
Athlete Lives: Hoor Sweden
Website: http://www.lisanorden.com
WTS Ranking: 23 1515pts
ITU Points List:: 31 2268.29pts
Athlete Biography
Took up triathlon in 2002 when my horse got injured and I needed to get rid of excess energy. And then I got stuck into it and decided to found out if I ever would be able to compete at an international level. Without a swim background learning how to swim freestyle was a big challange(and still is today). I grew up in a medium sized swedish town where I graduated from High School. The same year I went down under to Sydney as a "year off" before starting UNI. I thought triathlon would be a great thing to do as a break from the studying. My mum worked in Sydney for two years which made it possible for me to live down here. After 7 months I came back to europe but decided to do another block of 6 months. And that followed by a third 3 months trip down this year. So for three years now I have lived in a constant summer, which I really don't have any complaints about….
Athlete Sponsors: Specialized, Asics, TYR, JTT, Oakley
Athlete Language: Swedish, English and some German
Athlete Tri Entry Year: 2002
Athlete Other Sports: Grew up in the stable and competed in equestrian
Athlete Hobbies: Coffee-drinking and bread baking
Athlete Sports Hero: Stefan Holm
Athlete Proudest Moment: Being on the podium together with Snowsill and Fernandes in the Mooloolaba WC. It was my first ever WC podium and a feeling I\'ll never forget.
Athlete Injuries: Over the past year plentiful, a slipped disc -10, inflamed HFL -11, multiple calf tears -12-
Athlete Coach: Darren Smith