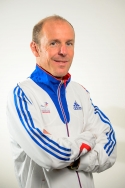 Representing: FRA
Gender: Male
Athlete Year of Birth: 1975
Athlete Place of Birth: France
Athlete Weight: 61kg
Athlete Height: 173cm
Athlete Lives: Aubiere France
Website: http://www.yannickbourseaux.com
WTS Ranking: No Ranking
ITU Points List:: No Ranking
Athlete Biography
I first took up triathlon when I was 14 years old because I loved the sport! The people who have had the most influence on my sporting career are my club and training partners in the Clermont-Fd area. A sport development project I am participating in is the attempt to include paratriathlon in the Paralympic Games. My favorite ITU race has been the 2009 London WCS, because the field was quite big at the start, and the race was very well organized. In an average week, I train between 15 and 25 hours. My personal best swim time (750m) is 12 minutes, bike (20km) 29:30, and run (5km) 16:20. My triathlon goal is to win the first triathlon at the Paralympic Games. One thing the triathlon world doesn't know about me is that I'm lazy about training when the weather is wet!
Origin of Impairment
Accident

Impairment Details
A cycling accident in 2004 left his right arm paralysed. (paralympic.org, 15 Jan 2014)

Start of sporting career
He took up triathlon at age 14 and began competing in para-triathlon in 2006. (paralympic.org, 15 Jan 2014)

Reason for taking up this sport
Triathlon has always been his passion. He became more serious about para-triathlon after participating at the 2011 World Championships in Beijing, China where he noticed that the competitiveness of the sport had dramatically increased since he had first tried it. He decided to commit to para-triathlon in 2013 when it was announced that the sport will make its Paralympic debut at the 2016 Games in Rio de Janeiro. (paralympic.org, 15 Jan 2014)

Social Media
Hear more from the athlete via their website, Twitter and Facebook.


Rank
Event
Year
Location
Result
World Championships
1
TRI-4
2012
Auckland, NZL
54:30
2
TRI-4
2013
London, GBR
1:06:15
PT4
2014
Edmonton, AB, CAN
DNF
Athlete Sponsors: Atos Origin, Eurospa
Athlete Language: French, English
Athlete Tri Entry Year: 1989
Athlete Other Sports: He was a member of the French national triathlon team before his accident. He competed in para-biathlon at the 2006 and 2010 Paralympic Winter Games.
Athlete Education: Sport training
Athlete Hobbies: Cross-country skiing and biathlon
Athlete Children: one child, Ines, with Fabienne
Athlete Proudest Moment: Being at Torino 2006 Paralympic Winter Games only 18th after my accident and disability.
Athlete Coach: Nicolas Becker