Focus on Education and Knowledge in March and April
by courtney.akrigg@triathlon.org
on 12 May, 2022 05:42 •
Español
March and April included a series of Education and Knowledge Seminars for World Triathlon, Activator Community seminars as well as the 2022 Harare Africa Triathlon - World Triathlon Development Continental Camp and a wealth of development and education opportunities across the continents. World Triathlon Development has launched the ASICS World Triathlon Team project for 2022 including three World Cup events (Pontevedra, Valencia, Vina del Mar).
Gqeberha World Triathlon Technical Officials Level 1 Seminar, 18-19 March, Course Facilitator: Retief Freysen (RSA).

Copenhagen World Triathlon Technical Officials Level 1 Seminar, Course Facilitator, 26-27 March - Duncan Hough (GBR). The course was initiated and funded by Triathlon Denmark.
"It was great to see so many come together for the level 1 seminar in Copenhagen after the last two years of courses being delayed due to C19. The Danish Federation were great hosts and welcomed TO's from Sweden, Czech Republic, Italy and even as far as USA. So it really was an International affair and great for so many to learn what happens in other parts of the World in triathlon. As to the standard of candidates, all I can say is we had a candidate with 100% in the knowledge quiz, which tells you how keen everyone was to get back into officiating," said Duncan Hough (GBR).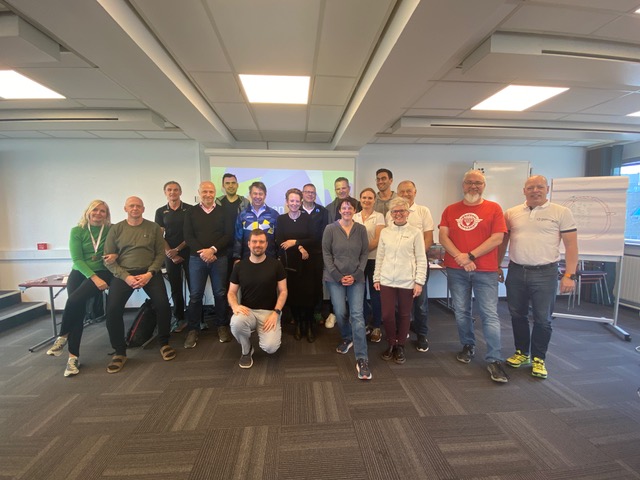 Loughborough World Triathlon Technical Officials & Event Organisers Level 2 Seminar, 1-3 April. Course Facilitators - Duncan Hough (GBR), Thanos Nikopoulos (GRE).
"The 14 TO's who turned up ready for the next stage of their officiating pathway found they had a full but fruitful 2 and a half days of learning and hopefully will go back to their respective countries of UK, Ireland, France, Portugal, Cyprus and Saudi Arabia with new ideas, learnings and examples to help establish the sport and their role in it. From swim course management with plastic ducks, to being creative to building a stadium out of whatever was available in the room, including access zones and flow paths to risk assessments outside in an airport car park. They experienced it all and their commitment, knowledge and enthusiasm was a credit to them all and their federations," said Duncan Hough (GBR).

Harare Africa Triathlon - World Triathlon Development Continental Camp, 3-9 April, Camp Facilitators: Pamela Fulton (ZIM), Riana Robertson (RSA)


"With Triathlon and the development of it within Zimbabwe and within Africa being such a passion of mine, it is always an honor and a privilege for myself and Zimbabwe to be considered for a World Triathlon Development Camp. At this year's camp we had 15 athletes and 5 coaches from 4 federations attending. These included Zimbabwe, RSA, Kenya and Mauritius. Riana Robertson and I work exceptionally well together and have had the privilege of working on 4 camps together. We worked together last September on a camp in Zimbabwe, so this year we progressed each session to ensure all athletes whether they attended last year or not, would all benefit from receiving new information, new challenges and different sessions.We have found that dividing the athletes into teams whereby they are separated from others from their home federation works exceptionally well as it encourages them to make new friends quickly. We have a camp-long team competition, whereby they are given different tasks to achieve and gain points throughout. These tasks are a mix of research and physical challenges. This always brings out the excitement in the athletes and it's fantastic to watch the dynamics of the teams grow and change throughout the week. This is where friendships are formed for life. We also include the coaches in all sessions ensuring they also grow and develop as coaches.Our aim by the end of the camp is that all athletes and coaches not only go home having learned about swim, bike and run, but that they also go home with new learned life skills. We encourage everyone to take ownership of their goals and actions, said Pamela Fulton (ZIM), head coach.
World Triathlon Development Courses delivered through Olympic Solidarity in April.
Conakry OS - World Triathlon Activator Community Seminar, 4-7 April.

Segbohoué OS - World Triathlon Activator Community Seminar, 9-12 April

Yenisehir Team Europe, 15-17 April
Europe Triathlon Team 2022
Since 2013 Europe Triathlon has an athlete development team programme to ensure that athletes with high potential from developing countries get opportunities to access and compete in European elite races. To earn ranking points, with a long-term view of qualifying themselves for higher level senior competition. Ever since, this programme has proof it benefits athletes and National Federations on their way to become elite athletes aiming finally to compete at the European Games and the Olympic Games."

To work out this programme in a constructive and transparent way,
the Europe Triathlon Executive Board has appointed a
Selection Commission that consists of:
Željko Bijuk (CRO) – Europe Triathlon Development Coordinator
Ljudmila Medan (SRB) – WSLA HPC and World Triathlon L2 Coach
Kathleen Smet (BEL) – Europe Triathlon Secretary-General and multiple Triathlon European Champion, Long Distance Triathlon World Champion and Olympian.

Europe Triathlon Team 2022 Events:
- Europe Triathlon Cup Yenişehir 16 - 17 Apr, Mersin, Turkey
- Europe Triathlon Cup Rzeszów 04 Jun, Rzeszów, Poland
- Europe Triathlon Cup Coimbra 11 Jun, Coimbra, Portugal
Europe Triathlon Team Yenişehir 16-17 April 2022 TURKEY:
Lucas Canbresy LUXEMBOURG
Armin Angerjärv ESTONIA
Arthurs Liepa LATVIA
Monika Bartol SLOVENIA
Artjoms Gajevskis LATVIA
Johannes Sikk ESTONIA
Ivana Granosa CROATIA

Team Coach:
Ljudmila Medan SERBIA

Intensive work with the team for a specific event begins with meetings on the online platform.
In communication with selected triathletes participate:
Zita Csovelyak - World Triathlon, National Federations Head of Development ,
European Triathlon Selection Commission,
President of European Triathlon Development Committee - Mitja Mori,
Race Director, Race Technical Delegate, Representatives of National Offices, Coaches and Experienced Triathletes to support race preparation.
Every detail is planned at the meetings: from travel and accommodation of athletes to getting acquainted with the triathlon course and specific preparation for the performance. Europe Triathlon Team Yenişehir has done a great job in Turkey, Arthurs Liepa LATVIA won the podium in the junior men's race and 5 triathletes won points for the World Triathlon Ranking.

Watamu World Triathlon Technical Officials Level 1 Seminar, 27-28 April


Course Facilitator: Retief Freysen (RSA)
"I present the seminar on 27 to 28 April 2022 in Kenya at a beautiful resort called Turtle Bay in Watamu on the east coast.
The seminar coincide with the Africa Zone 2 & 4 Triathlon Championship. The Kenyan Triathlon Federation arrange the facilities required for the seminar very well. They had 6 candidates who attended the seminar.
The candidates were very enthusiastic to start their Technical Official career with this seminar.
Their participation in discussions was excellent, taking their status as Officials into account. All join in on discussions and a lot of questions were asked regarding the rules and application thereof. It was impressive to see their willingness to learn, and it shows on the event thereafter how much they did learn in becoming a WT Technical Official.
It was a pleasure for me to present the seminar and provide them assistance with the first step of their officiating career. To experience positive and enthusiastic candidates was great for the future of the sport of Triathlon in Kenya.
Revalidation: World Triathlon Technical Officials Level 1 Revalidation E-Seminar - English and Spanish, 4 April - 3 August
IIRM-World Athletics 2022 Endurance Medicine Conference Series: Milan 2-3 April
In conjunction with the Milan Marathon, it was organized in Milan as the first Race Emergency Medicine Course of this year for the race medical directors and medical delegates.
After the cooperation that has been established between World Athletics and World Triathlon, the REMCs will be organized with the support of IIRM in conjunction with the major World Athletics road races.
The REMC is a one/two-day course combining theory and practice, with the objective of providing participants with the ability to manage health-related scenarios during endurance events, including heatstroke/ heat illness, exercise associate collapse, cardiac arrest, and exertional hyponatremia management. The REMC have also an e-learning part that is indivisible from the practical part. You can find the list of all the REMC courses organised this year on our development calendar HERE.
For more information please visit the World Triathlon Education & Knowledge Hub, including the 2022 World Triathlon Para triathlon Rules and Event Management E-Module and 2022 World Triathlon Technical Officials Community E-Seminar. The new e-learning education platform has been developed to allow for individuals to participate in the community level course online without physically attending a course.
Related articles

Latest
Videos
---
Latest
Event Galleries